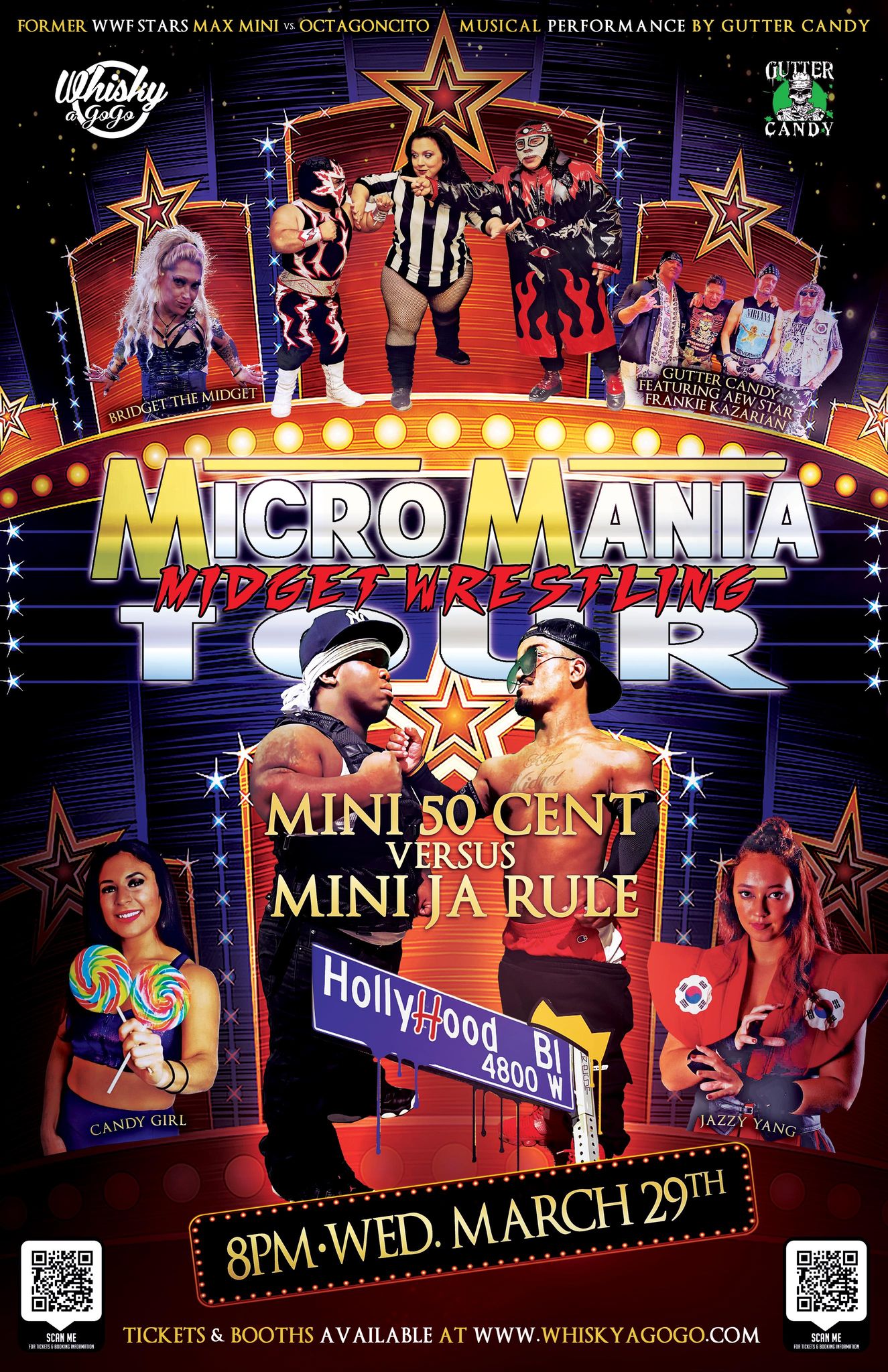 MicroMania Midget Wrestling: Mini 50 Cent vs Mini Ja Rule
Details
Date:
March 29
Time:
08:00 pm - 11:00 pm
Venue
Whisky A Go-Go
8901 W Sunset Blvd
West Hollywood, CA, United States, 90069
MicroMania Midget Wrestling returns to the Whisky a GoGo as MicroMania goes HollyHood!!
Main Event
Mini 50 Cent (aka 25 Cent) faces Mini Ja Rule in a Mini fight years in the making.
Former WWE Stars square off as Max Mini (aka Tsuky) goes 1 on 1 with Octagoncito
Battling Bombshells collide as Candy Girl faces the Debut of 2nd Generation Wrestler Jazzy Yang daughter of former WWE/WCW Superstar Jimmy Wang Yang.
Appearances by MicroMania Stars Bridget the Midget, Tiffany Payne, and much more
Plus, a musical performance by Gutter Candy featuring former AEW & Current Impact Wrestling Superstar Frankie Kazarian
MicroMania Midget Wrestling is a high powered, explosive, athletic Pro Wrestling show with just the right touch of comedy thrown in to make for a unforgettable BIG event not necessarily BIG people!!
These 5 foot & under micro athletes may be short in stature but are giants in the world of entertainment where they will keep you on your feet screaming from the opening bell through the Main Event!
MicroMania Midget Wrestling Promo Video

Age Restrictions: All Ages
Doors Open: 8pm
Get Presale Tickets & VIP Booths
At www.WhiskyaGoGo.com
Follow all things MicroMania:
Facebook: MicroMania Tour
Tik Tok: TheMicroManiaTour
Instagram: MicroMania Tour
Website & Booking info:
www.MicroManiaTour.com